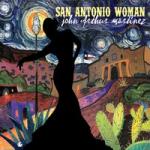 San Antonio Woman by John Arthur Martinez (CD)
Price $14.99

14.99
San Antonio Woman by John Arthur Martinez (CD) More Details
"john Arthur martinez is one of the great Texas singer-songwriters. Having seen him perform as a solo artist and with his band, it's evident that this guy is the real thing." — Ray Benson, Grammy Award-winning Asleep at the Wheel front man

"Kent Finlay and the Cheatham Street Warehouse are world-famous for incubating and nurturing fledgling songwriters. john Arthur martinez is a graduate of both Texas State and Kent Finlay's 'school' of songwriting. Martinez is a Texas poet who writes gorgeous lyrics. His voice, which is not always the case with songwriters, matches almost flawlessly with his music.
—Today in San Marcos

Award winning artist, john Arthur martinez, is one of the Lone Star State's favorite singer-songwriters and when the stage lights shine he and his band bring it!

From the Country Rendezvous in France with Mark Chesnutt & The Greencards, to the Grand Ole Opry with Carrie Underwood, Keith Urban & Charlie Pride, to his birthplace of Austin, Texas with Elton John, Reuben Ramos and Asleep at the Wheel, he's proven his music grades on stages all over the world.

His flowing melodies carry stories told by a true Texas songwriter. His songs have been covered by the likes of Alan Jackson, Flaco Jimenez, Raul Malo and many independent artists. But when he covers a song like "When You Say Nothing At All," which charted on Billboard, he gives it his own twist. His bilingual version of "Amarillo by Morning" is seen in dance videos from Dallas to South Korea.

JAM's claim to fame was his time on TV's "Nashville Star." He won second, ahead of Miranda Lambert. But, he hasn't stopped there 2017 he's already played France, Switzerland, Germany, Austria and Italy—while 2018 already shows a German festival on the books. His 12th recording San Antonio Woman will be released this summer with three of the songs slated for an independent film called I Miss You Already.
SSL