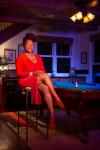 Rochelle & The Sidewinders at Brass Hall
Price $10.00

10.00
Rochelle & The Sidewinders at Brass Hall More Details
Doors open at 7 P.M.
Estimated Show Time: 8 P.M.

TICKET PRICING:
$10 - General Admission* (Advance)
$20 - General Admission* (Door)
$20 - Reserved Seating**

$125 - Table for 4 Reservations****


*General admission is STANDING ONLY Tickets

**Reserved Seating Guarantees You a Seat at Brass Hall during the Show.

****Reserved Tables Stage Front for 4 Guarantees a Table for 4 Stage Front for the Show.

If You Would Like to Inquire About Group or Interested in Becoming a Sponsor to Support Live Music in Downtown Marble Falls Please Contact the Brass Hall Team at (info@brasshall.com).
Rochelle & The Sidewinders is group comprised of seasoned veterans of the Austin music scene with the common desire to play the Blues! Focusing on original music as well as classics by the likes of Etta James, Koko Taylor, Buddy Guy with a few bluesy twists on some modern tunes as well. Rochelle is a dynamic and striking presence with a voice that cuts right through to the bone! You will dance, groove and party-don't miss an opportunity to catch this amazing act live!

Video Link:
https://youtu.be/m4Cq-g2a8Vs

*WE DO NOT MAIL TICKETS.
*Tickets Can Be Picked Up at Brass Hall the Day of Show. *
*Tickets are Non-Refundable.
*All Ages!
SSL