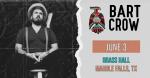 Bart Crow at Brass Hall
Price $10.00

10.00
Bart Crow at Brass Hall More Details
Doors open at 7 P.M.
Estimated Show Time: 8 P.M.

TICKET PRICING:
$10 - General Admission* (Advance)
$20 - General Admission* (Door)
$20 - Reserved Seating**

$125 - Table for 4 Reservations****

$175 - Stage Front for 4 Table Reservations****

*General admission is STANDING ONLY Tickets
**Reserved Seating Guarantees You a Seat at Brass Hall during the Show.
***Reserved Tables Guarantees a Table for 4.
****Reserved Tables Stage Front for 4 Guarantees a Table for 4 Stage Front for the Show.

If You Would Like to Inquire About Group or Interested in Becoming a Sponsor to Support Live Music in Downtown Marble Falls Please Contact the Brass Hall Team at (info@brasshall.com).

Whether you're in a Manhattan hi-rise or at a truck stop somewhere off a Midwestern interstate, keep your eyes open. Bart Crow is coming your way.

Always known as "the nice guy" with a smile on his face, the tides are turning and the gloves are coming off. Bart Crow is still the kind of guy and artist fans in the South and Midwest have grown to love. But on his new album The Parade, boundaries disappear and things are getting real.
The road-toughened troubadour and his band have already logged thousands of miles playing 130+ dates a year in front of
loyal rowdy crowds at far-flung, late-night clubs and concert halls all over Texas, Oklahoma, Kansas, Arkansas, Nebraska and beyond. It's his music that draws them — a tangle of roots in blues, country and down-home rock 'n' roll, branded with his unique imprint. They hear their lives in his lyrics, written in the tradition of Townes Van Zandt, Steve Earle and other true-life troubadours.

Video Link:
https://youtu.be/i55ep8uEy8w


*WE DO NOT MAIL TICKETS.
*Tickets Can Be Picked Up at Brass Hall the Day of Show.
*Tickets are Non-Refundable.
*ALL AGES!
SSL