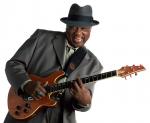 W. C. Clark at Brass Hall
Price $10.00

10.00
W. C. Clark at Brass Hall More Details
Doors open at 7 P.M.
Estimated Show Time: 8 P.M.

TICKET PRICING:
$10 - General Admission* (Advance)
$20 - General Admission* (Door)
$20 - Reserved Seating**

$125 - Table for 4 Reservations****

$175 - Stage Front for 4 Table Reservations****

*General admission is STANDING ONLY Tickets

**Reserved Seating Guarantees You a Seat at Brass Hall during the Show.

***Reserved Tables Guarantees a Table for 4.

****Reserved Tables Stage Front for 4 Guarantees a Table for 4 Stage Front for the Show.

If You Would Like to Inquire About Group or Interested in Becoming a Sponsor to Support Live Music in Downtown Marble Falls Please Contact the Brass Hall Team at (info@brasshall.com).
Before he began releasing albums in 1986, Clark was often referred to in the local press as Austin's Best-Kept Secret. Between the overwhelmingly positive media attention, the popular notoriety, the bigger and better tours, the secret was out. The AUSTIN AMERICAN STATESMAN says its hometown hero is "one of the greatest modern blues performers in the world…blending rock with R&B, soul and a touch of funk." The AUSTIN CHRONICLE describes his music as "Good rockin', soul-drenched Austin blues. A potent combination of gritty Texas guitar wedded to devastating, gospel-rich Memphis vocals." Clark has won several Austin Music Awards for the "Best Blues Band". Thanks to a series of stellar albums (each accompanied by piles of passionate press) and a reputation as a powerful live performer, the man know as "The Godfather of Austin Blues," is now among the best loved guitarists and vocalists in the blues world.

Video Link:
https://youtu.be/iiOKIePbkOU

*WE DO NOT MAIL TICKETS.
*Tickets Can Be Picked Up at Brass Hall the Day of Show.
*Tickets are Non-Refundable.
*All Ages!
SSL